Besides the Diffusion Choir sculpture, other works by the partnership of Sosolimited, Hypersonic & Plebian Design are included below.  https://www.sosolimited.com/work/ – http://www.hypersonic.cc/ – http://plebiandesign.com/projects / Text has been taken from the collaborators' sites /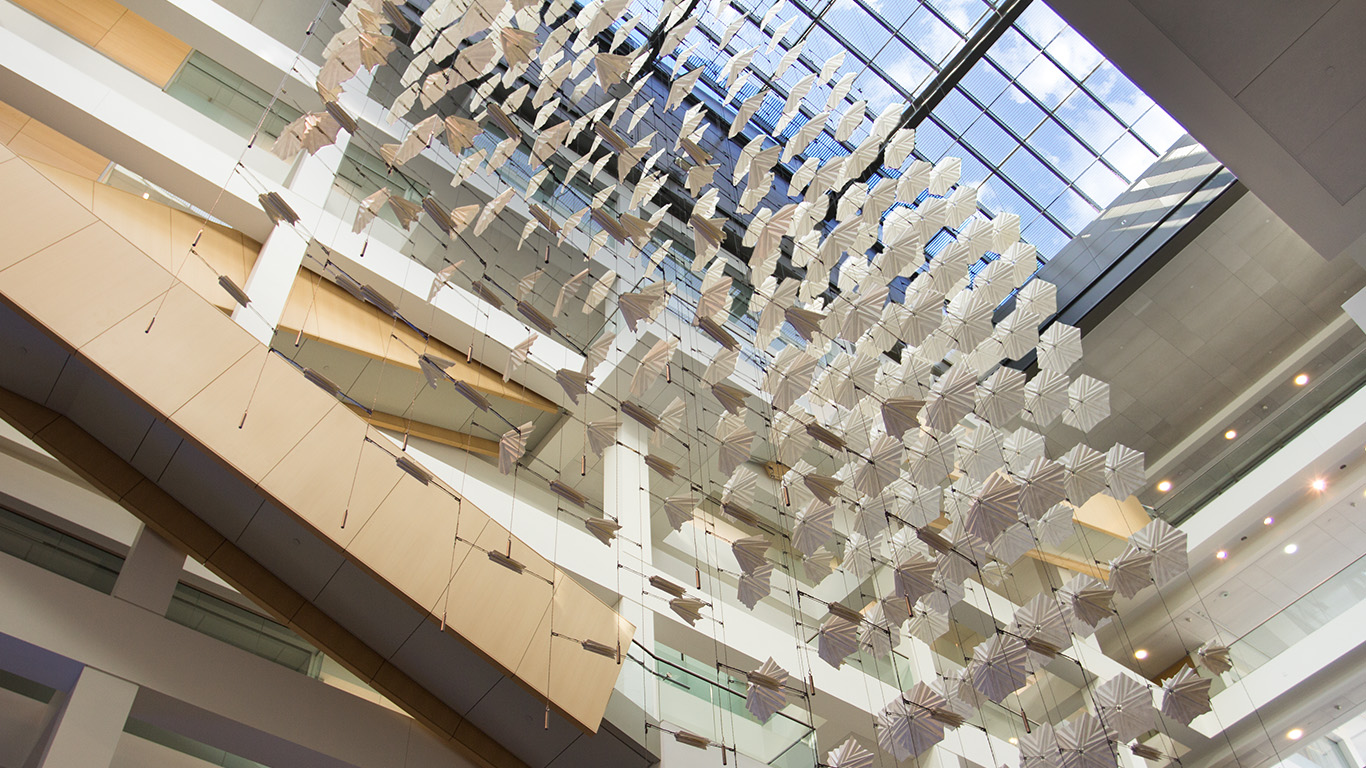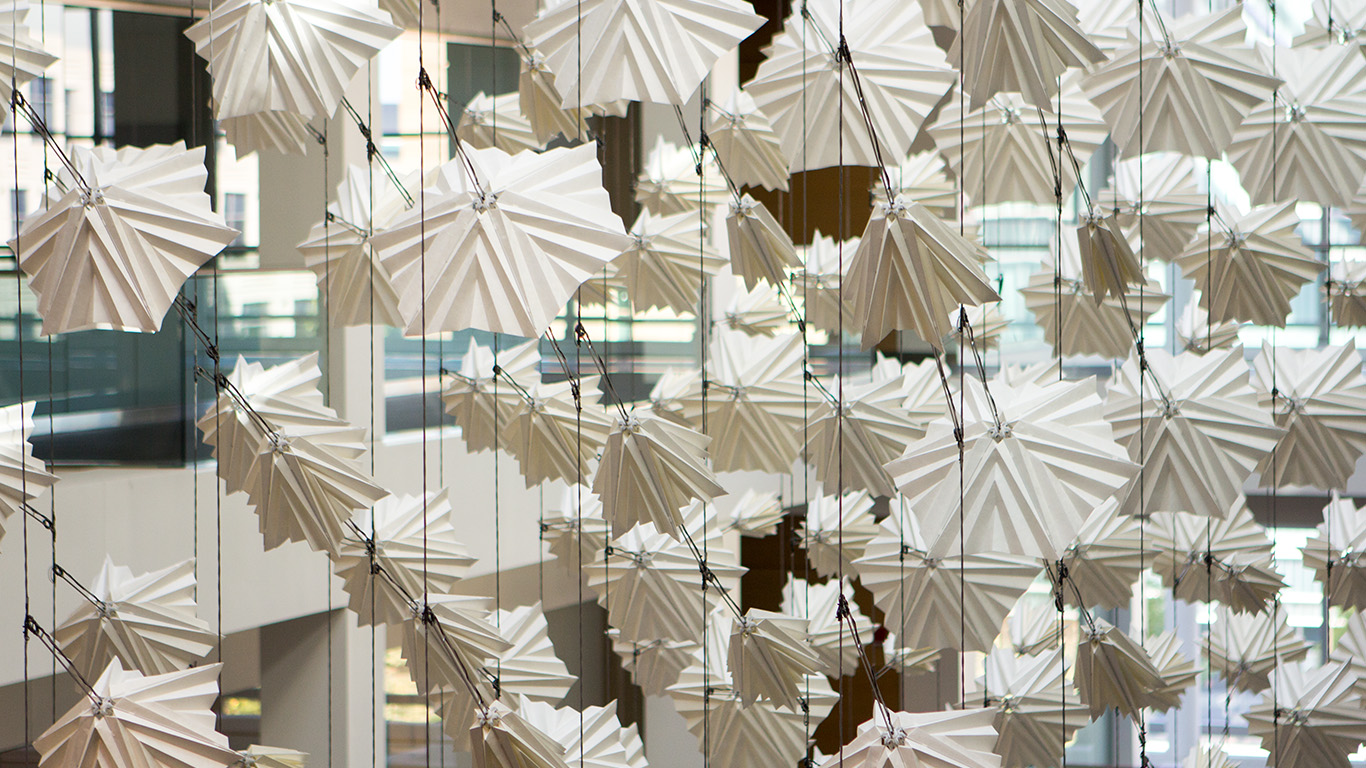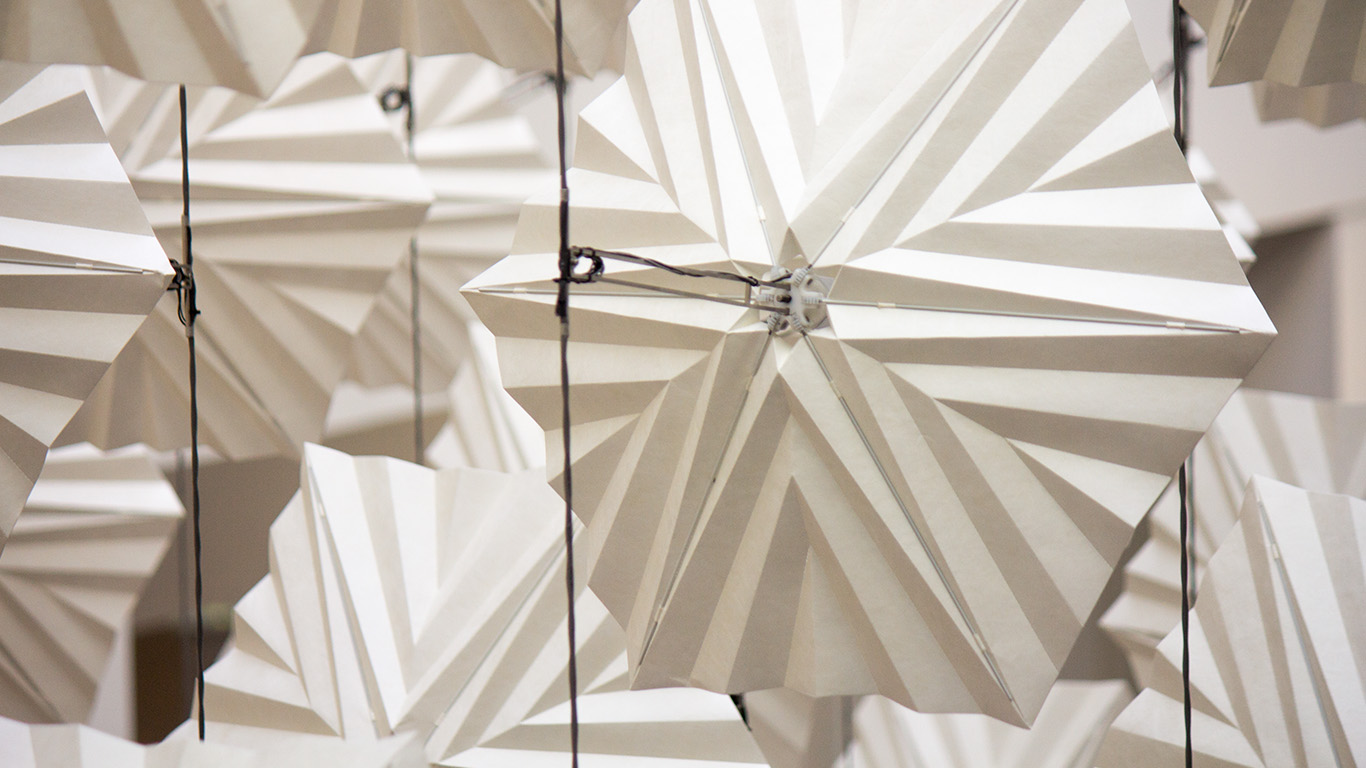 A kinetic sculpture that reveals the movements of an invisible flock of birds. Diffusion Choir  The sculpture is a collaboration between , and , who have previously partnered up to create sculptures that create unique visual experiences by bringing technology, engineering and design together.
Client: BioMed Realty Trust for its building at 650 East Kendall Street in Cambridge, Massachusetts.
'The sculpture celebrates the organic beauty of collaboration by visualizing the movements of an invisible flock of birds. Four hundred folding elements form a hanging volume in the sunlit atrium. Each element can independently open and close, controlled by custom software running a flocking algorithm. The movements of the sculpture are perpetually evolving, driven by the flocking simulation. Over the course of each hour, smaller groups of birds coalesce into a single entity, soaring through the air in fluid collaboration. At each quarter hour, the birds gather and perform special choreographed gestures across the sculpture.' /
Patterned by Nature from Sosolimited on Vimeo.
Patterned by Nature: From raindrops to cuttlefish skin, patterns from nature animate a sculpture ribbon of LCD panels.
Client: North Carolina Museum of Natural Sciences for the Nature Research Centre, Raleigh, North Carolina Collaborators: Hypersonic Engineering & Design, Plebian Design, Patten Studio.
'The artwork celebrates our abstraction of nature's infinite complexity into patterns through the scientific process, and through our perceptions. It brings to light the similarity of patterns in our universe, across all scales of space and time. 10 feet wide and 90 feet in length, this sculptural ribbon winds through the five story atrium of the museum and is made of 3600 tiles of LCD glass. It runs on roughly 75 watts, less power than a laptop computer. Animations are created by independently varying the transparency of each piece of glass.' / Harcourt Wall from Sosolimited on Vimeo.
Client: Baccarat Hotel in New York.  Sosolimited worked with Hypersonic Engineering & Design.
'Visitors to the Baccarat Hotel are greeted by a shimmering wall of crystal, made of nearly two thousand illuminated Harcourt glasses. This [is a]  contemporary interpretation of the timeless Baccarat chandelier. Each iconic Harcourt 1841 glass, the oldest glass in the Harcourt collection, catches the light of an independently controlled LED fixture. Together they form a captivating plane of moving golden light.'