Christ & Gantenbein // Kunstmuseum Basel 2016: LED Fries in Motion // Architektur Basel – YouTube
Kunstmuseum Basel by Christ Gantenbein, Basel. 2015.  'The facade of the new building for the museum produces its effect through the symbiosis of stone and light: a three-metre-high frieze encircles the building at a height of twelve metres. Its narrow horizontal joints create a fine relief and are cast in shadow by the incident daylight. The light frieze uses this for artistic effect. White LEDs are set into the joints so they cannot be seen from the street yet precisely illuminate the specially formed grooves. Reflection on the light-coloured bricks of the frieze creates an indirect, diffused light that can be used to display both text and graphics.'  iart.  http://www.christgantenbein.com/index.php/main/projects
flokk – Interactive Light Solutions with OLED from iart on Vimeo.
'Flokk luminaires and installations can react to one another, environmental triggers and internet data and are therefore able to display information in the form of light effects (e.g. patterns of clouds). An algorithm ensures that the luminance in the room remains at a constant level, allowing for an even and pleasant lighting. Thus, if one OLED is dimmed, the opposite will shine brighter, and vice versa.'
'It was created by iart within the CTI research project 'Transformative Räume und Objekte' (Transformative Spaces and Objects). The objective of the research conducted by the HGK Basel in collaboration with industry partners was to explore and experiment with the innovation potential of the OLED as a light source.'  iart. /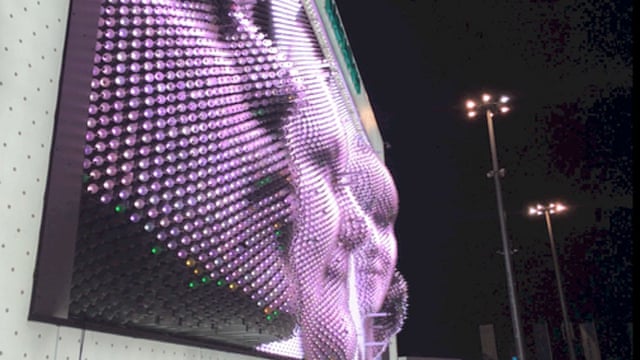 MegaFaces Pavilion and kinetic facade, Sochi Winter Olympics 2014 from Asif Khan on Vimeo.
'MegaFaces is a cross-platform project that combines digital, sculptural and architectural innovation. It was conceived by London architect Asif Khan and engineered by Iart for the Sochi 2014 Winter Olympics and Paralympics. The project was commissioned by the Russian telecom operator MegaFon.
The kinetic facade of the MegaFaces Pavilion was engineered by iart down to the smallest detail. It measured 18 x 8 metres and consisted of 11,000 telescopic cylinders, so called actuators.'  iart.  http://www.asif-khan.com/
Wirbelstrom – Kinetic Light and Sound Installation (English Subtitles) from iart on Vimeo.
'Wirbelstrom kinetic light and sound installation Wirbelstrom' was shown from July to October 2014 in the machine hall of the Kraftwerk Birsfelden. 'Wirbelstrom' showed the entire range from the gentle headwater to the immense vortex-force and the thunderous discharge into the Rhine river. Rotating panels of fabric above the turbines turned into shimmering reflective surfaces. And the dynamic use of light created moments that visualised the energy and transformation of water running through the power plant.
In addition, the large window facade of the machine hall was put into vibration to generate sounds interpreting the movement inside. They brought the building to life and let it become part of the audio-visual installation. In realising the sound installation, iart collaborated with composer Benedikt Schiefer.' iart.  The Krafwerk  hydroelectric power station  was designed by Hans Hofmann in 1954