The drawings here are taken from a May 2008 article in the New York Times on an exhibition: Ardeshir Mohassess: Art and Satire in Iran. Reporter, Karen Rosenberg, wrote: 'Decades before Marjane Satrapi's celebrated comic book memoir "Persepolis," the Iranian satirist Ardeshir Mohassess was making black-and-white drawings whose blend of humor and reportage made him a cult figure for artists and intellectuals in his country.' Hopefully he is still fondly remembered.  For the full article and commentary on the drawings,  go to:  http://www.nytimes.com/2008/05/30/arts/design/30sati.html   Mohassess' work has been said to be 'above all (an) acute eye (that) observes and confronts power'.
"The body of the martyred imam is also to arrive tonight by plane." (1977) /
"Long Live the Nation" (1978) /
"The men bent in prayer to God and the government airplanes arrived." (1977) /
Untitled /
"Alchemy of the Self" (1977) /
"The convict's execution coincided with the king's birthday ceremonies" (1978) /
"Today's martyrs demonstrate in honor of tomorrow's martyrs." (1978) /
"A Letter From Shiraz" (1982) /
"The judge's sight may never be satiated." (1988) /  More drawings from the exhbition below, but not included in the NY Time article /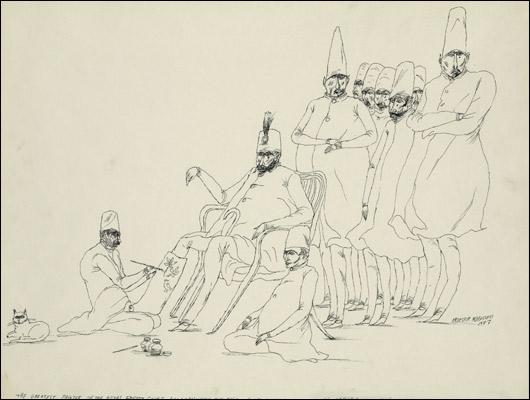 "The royal court's greatest painter accomplishing the most important assignment among his artistic activities," 1977 /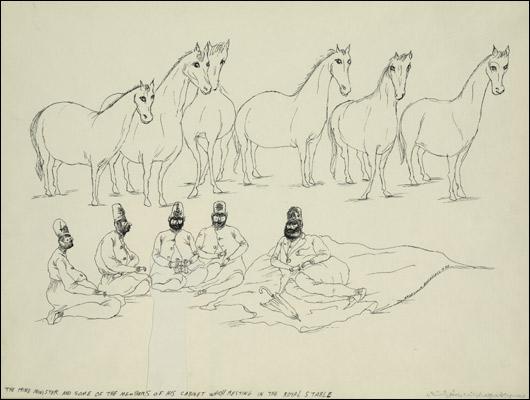 "The prime minister and his cabinet rest in the royal stable," 1977 /
"The king is always above the people," 1977.